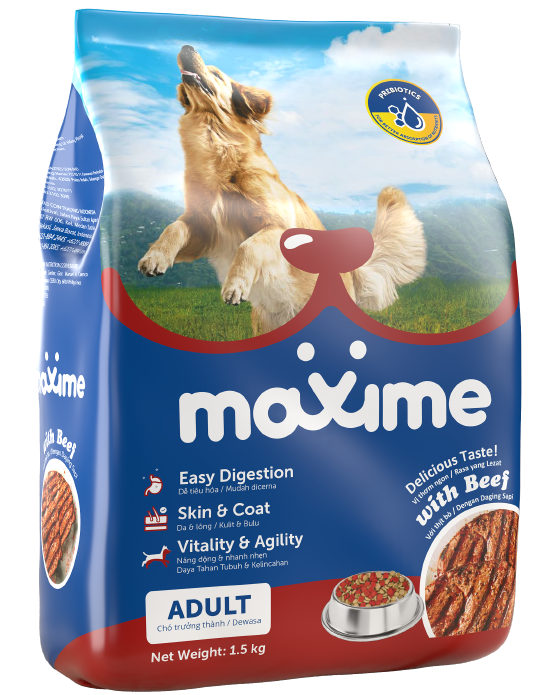 Maxime Dry Dog Food – Adult            Beef Flavor
Have a worry-free transition for your furry friend with Maxime! Maxime Dry Dog Food Beef Flavor is an ideal choice for pet owners who want to ensure their furry friends enjoy a delicious and nutritious meal every time. This product is made with high-quality beef to delight your dog's taste buds, along with easy-to-digest ingredients and prebiotics to support healthy digestion. With valuable nutrients promoting healthy skin and coat, this formula also contains high-quality proteins that promote vitality and agility in adult dogs. Whether you're looking to maintain your dog's overall health or keep them energetic and playful, Maxime Dry Dog Food Beef Flavor is the perfect way to live your best life together!
Ingredients: Whole Grain Cereals (wheat, maize, rice), Poultry Meal, Meat Meal (beef), Soya by-products, Fiber Brans (rice/wheat), Poultry Fat (natural source of Omega 6), Vitamins (A, D3, E, K3, B1, B2, B6, B12, Pantothen-ic Acid, Biotin, Folic acid) & Minerals (Iron, Copper, Manganese, Zinc, Iodine, Selenium), Iodized salt, Choline Chloride, Monocalcium phosphate, Calcium carbonate, Mannan-oligosaccharides, Antimold, Antioxidant, Palatants, Pigments, Yucca Schidigera extract.
Available in: 400g, 1.5kg and 20kg packs
Buy Now

DELICIOUS TASTE
Delicious recipe made with beef to delight your dog meal after meal.

EASY DIGESTION
Formulated with highly digestible ingredients and prebiotics for an easy digestion.

SKIN & COAT
Contains nutrients promoting a healthy skin and a shiny coat

VITALITY & AGILITY
High quality proteins to promote vitality and agility on adult dogs.

PREBIOTICS
For better absorption of nutrients.
Crude Protein – min. 20%
Crude Fat – min. 10%
Crude Fiber – max. 4%
Moisture – max. 12%
| Body Weight (kg) | Daily Feeding (g/day) |
| --- | --- |
| 1-5 | 30-100 |
| 5-10 | 90-180 |
| 10-20 | 160-300 |
| 20-40 | 280-450 |
| >40-60 | 430-600 |
| Meal (Time/Day) | 1-2 |