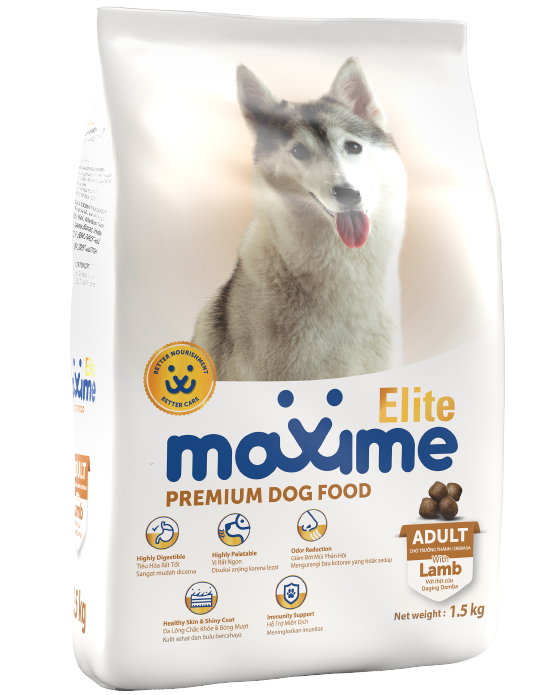 Maxime Elite Dry Dog Food – Adult – Lamb Flavor
Maxime Elite is the premium line of dog food from Maxime. Maxime Elite is the perfect choice for dog owners who want the very best for their furry friends. With lamb and beef flavors, these are sure to appeal to even the pickiest eaters. Maxime Elite is also enriched with omega 3 and omega 6 fatty acids from fish oil, which help promote healthy skin and coat, as well as immunity support to keep your dog healthy and strong. Plus, the special formula helps reduce odor, so your dog can enjoy a happy, healthy life without any unpleasant smells. If you want to give your dog the best nutrition possible, choose Maxime Elite Dry Dog food.
Ingredients: Corn, Wheat, Soybean Meal, Corn Gluten Meal, Meat and Bone Meal (Ovine), Poultry Meal, Full Fat Soybean, Wheat Bran, Chicken Fat, Fish Meal, Vitamins, Minerals, Meat and Bone Meal (Bovine), Fish Oil, Mannan oligosaccharide, Yucca, Preservative.
Available in: 400g, 1.5kg and 10kg packs
Buy Now

HIGHLY DIGESTIBLE
Formulated with highly digestible lamb from Australia for an optimal kibble digestion and nutrient assimilation.

HIGHLY PALATABLE
Formulated with quality premium ingredients to provide highly palatable kibbles.

ODOR REDUCTION
Contains Yucca Schidigera that helps reduce stools' oders.

HEALTHY SKIN & SHINY COAT
Contains omega 3 and omega 8 fatty acids from fish oil to promote a healthy sking and shiny coat.

IMMUNITY SUPPORT
Contains prebiotics M.o.S. (mannan-oligosaccharides) and antioxidants to support your dog's natual defences all life long.
Crude Protein – min. 22%
Crude Fat – min. 8%
Crude Fiber – max. 4%
Moisture – max. 10%
| Body Weight (kg) | Daily Feeding (g/day) |
| --- | --- |
| 1-5 | 30-100 |
| 5-10 | 90-180 |
| 10-20 | 160-300 |
| 20-40 | 280-450 |
| >40-60 | 430-600 |
| Meal (Time/Day) | 1-2 |