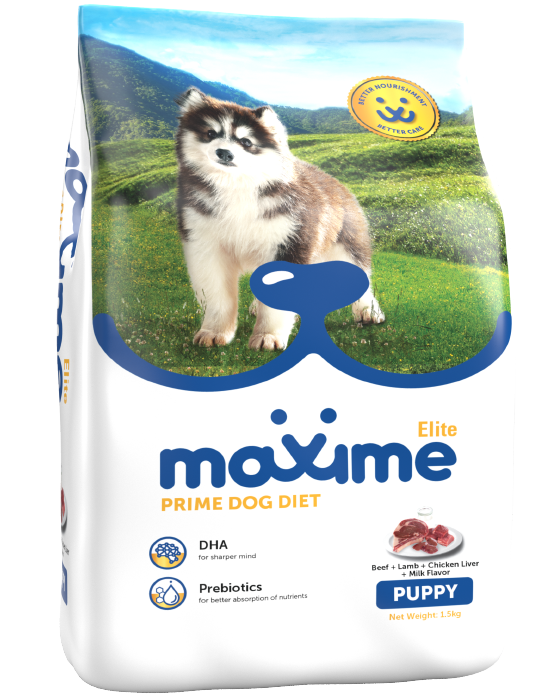 Maxime Elite Dry Dog Food – Puppy – Beef, Lamb, Chicken Liver & Milk Flavor
Maxime Elite for Puppies is the perfect choice for puppy owners who want the very best for their furry family members. The lamb, beef, chicken liver, and milk flavor is sure to appeal to even the pickiest eater, while the special formula is enriched with DHA for a sharper mind and prebiotics for better absorption of nutrients. Maxime Elite for Puppies is also formulated to meet the nutritional needs of growing puppies, making it the perfect choice for puppies of all breeds and sizes. As with all Maxime products, our feeding guide and 7-day transition ensure that your puppy gets the best nourishment possible. If you want to give your puppy the best start in life, choose Maxime Elite Dry Dog for Puppies.
Ingredients: Corn, Corn Gluten Meal, Wheat, Wheat Bran, Full Fat Soybean, Soybean Meal, Meat and Bone Meal (Bovine), Chicken Fat, Meat and Bone Meal (Ovine), Poultry Meal, Fish Meal, Vitamins, Minerals, Fish Oil, Chicken Liver Powder, Mannan oligosaccharide, Yucca, Milk Flavour, Preservative.
Available in: 400g, 1.5kg and 10kg packs
Buy Now


PREBIOTICS
For better absorption of nutrients
Crude Protein – min. 27%
Crude Fat – min. 15%
Crude Fiber – max. 3.5%
Moisture – max. 10%
| Body Weight (kg) | Daily Feeding (g/day) |
| --- | --- |
| 1-5 | 35-105 |
| 5-10 | 105-180 |
| 10-20 | 180-300 |
| 20-30 | 300-405 |
| Meal (Time/Day) | 3-4 |