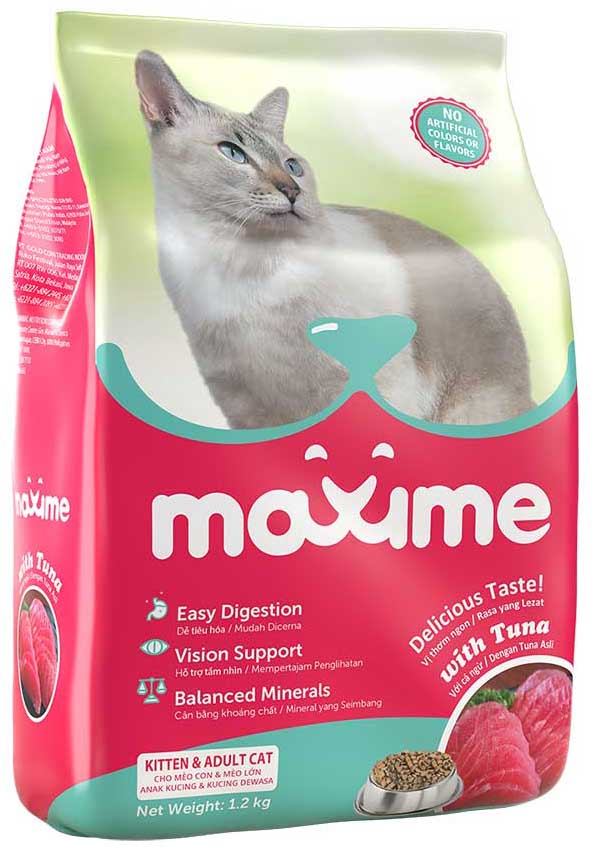 Maxime Dry Cat Food – Kitten & Adult – Tuna Flavor
Maxime Cat Food is here to satisfy your feline friend's taste buds. Made with real tuna, this delicious dry food is sure to appeal to kittens and adult cats! In addition to its delicious flavor, Maxime Cat Food is also packed with nutrients that are essential for your cat's health. Maxime Elite Cat Food is also fortified with vitamins, minerals, and antioxidants to help your cat stay healthy and strong. Maxime Elite Cat Food is available in a variety of sizes, so you can choose the perfect pack for your cat's needs. Whether you have a kitten or an adult cat, Maxime Cat Food has the perfect formula for your furry friend. Try Maxime Cat Food today and see the difference it makes in your cat's life. Your cat will be happy, healthy, and satisfied with this delicious and nutritious dry food.
Ingredients: Rice, Poultry Meal, Wheat Products, Soya by-products, Salmon meal (Real Fish Protein), Poultry Fat (natural source of Omega 6), Fish Oil (natural source of Omega 3 & DHA), Vitamins (A, D3, E, K3, B1, B2, B6, B12, Pantothenic Acid, Biotin, Folic acid) & Minerals (Iron, Copper, Manganese, Zinc, Iodine, Selenium), Choline Chloride, Taurine, Sodium bisulfate, Monocalcium phosphate, Calcium carbonate, Iodized salt, Antimold, Antioxidant, Palatants, Yucca Schidigera extract.
Available in: 400g, 1.2kg and 7kg packs.
Buy Now

DELICIOUS TASTE
Delicious recipe make with real salmon to delight your cat meal after meal.

EASY DIGESTION
Formulated with highly digestible ingredients for an easy digestion.

VISION SUPPORT
Enriched with taurine. Taurine is required for healthy function of the eyes.

BALANCED MINERALS
Balanced in sodium and other minerals to take care of your cat or kitten every day.
Crude Protein – min. 30%
Crude Fat – min. 10%
Crude Fiber – max. 5%
Moisture – max. 10%
| Body Weight (kg) | Daily Feeding (g/day) |
| --- | --- |
| 1-2 | 25-35 |
| 2-3 | 30-50 |
| 3-4 | 45-65 |
| 4-5 | 80-140 |
| >5 | 60-140 |
| Meal (Time/Day) | 1-2 |